27 Feb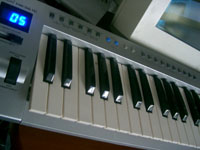 This is my cheap yet very useful and complete MIDI control keyboard. I use it for experimenting an recording lines, but for experimenting my electronic piano is a little more intuitive.
It has 61 keys and 16 MIDI control knobs, and of course a pitch bend and a mod wheel.
Sufficient for now, but might be replaced in the future.