24 Feb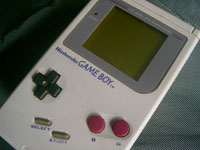 The first matrix-display handheld gaming device that was released around the globe was a sensational hit. It got nintendo into the hearts of children and adults immediately. For the musician, it provides access to two pulse-channels, one noise channel, and one 4-bit sample channel. Accessible using LSDJ, lots of sounds and arrangemens can be produced that sound familiar, yet surprise most people: the little thing can actually provide nice basses and unusual sound, if treated right.
Lots of people use it for fun, and producing chip-tunes. dot.matrix and the Vienna Gameboy music club are two examples from the immediate neighborhood, but others like Bit Shifter and Nullsleep have a more global influence on the scene.
All in all, a great little thing for use as a musical notepad for melodies that hit you in the middle of work or the subway, and also capable of producing sweet little arrangements!