22 Feb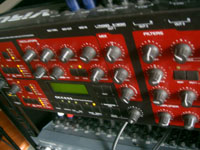 A simulated analog synthesizer with 24 voices and up to 16 parts. Lots of tweaking, and each new release of its operating system brought new possibilities, such as additional LFOs and many more.
I just love designing a sound by tweaking one of those mutliple-dozen knobs. Also works really well as a vocoder and effects processor. Markus Schrodt and me used it as a vocoder, for example, in our "Das Model" Cover (to be posted soon).
A good article summarizing the features can be found at amazona.de (German).
Highly recommended for people searching for a fun 1st, 2nd or 3rd synth!